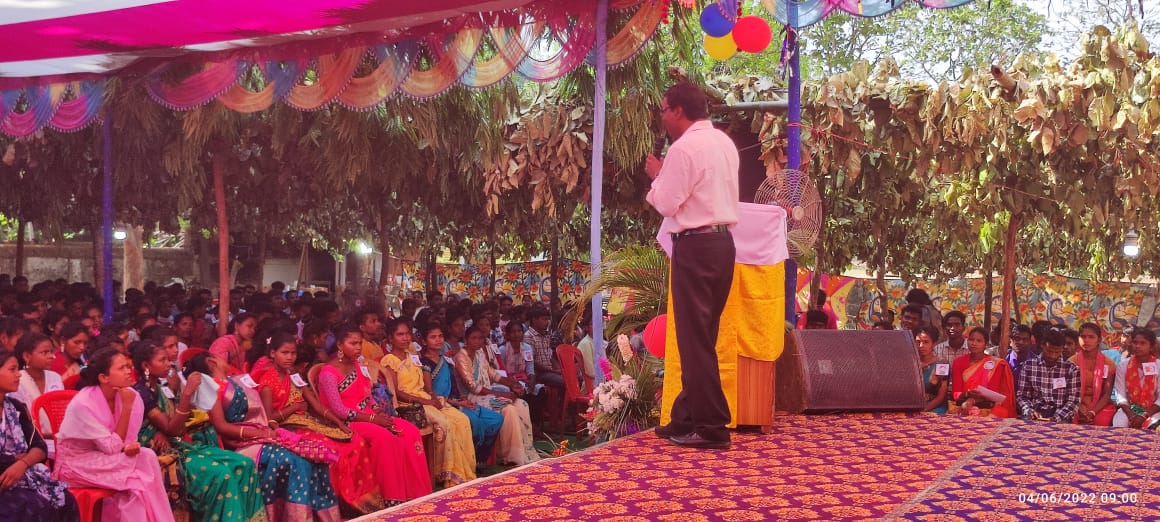 Be it a family, community, Church, state or nation, a youth plays a vital role in its building or destroying. During the lockdown period it was felt all the more. Hence, in order to rejuvenate them a three-day youth meet was held for Sarwada Vicariate at Gaurbera Parish from 3-5 May, 2022. About 500 youth participated from four Jesuit parishes namely Dolda, Kochang, Sarwada and Rumtukel, and one TOR and one diocesan parish, i.e., Gaurbera and Bandgaon respectively.
In the evening of the first day, Fr. Sibil Horo cautioned the youth about the adverse impact of mass media today. The first session on some legal issues on the second day morning by Fr. Anupchand Minj from Hoffmann Legal Cell was an eye-opening one for participants. In a limited time, Fr. Anup aptly touched several existing legal problems faced by the youth of the locality; for example, requirements for filing a First Information Report (FIR), court marriage and buying or selling of a second vehicle, the citizens' rights during and the post arrest by the police, when and how a lady criminal could be arrested, human trafficking, need of getting familiarized with land documents, etc. He also challenged the participants to find other business alternatives, instead of cultivating or transporting opium products the Khunti area is infamous for. He alerted them about human trafficking of children and women from the locality. He also asked them to help people to eradicate some prevalent social evils, for instance Dain Bisahi.
Fr. Florence Purty from St. Xavier's College Ranchi simplified and elaborated the meaning of 'education'. In the context of youth, he annumerated various startups that could be taken up by the youth to become self-reliant economically. Alcoholism is one of the burning issues for the for the present-day youth. A Palotine priest, Fr. Simon Nazreth, who is the director of a de-addiction centre based in Chainpur, Gumla urged the youth to keep away from alcoholism in case to be a successful person wherever they are.
A cultural dance competition was organized on the last day of the meet. The youth of Sarwada, Gaurbera and Rumtukel parishes were the 1st, 2nd and 3rd prize winners respectively. In fact, the performance of each parish group was very mesmerising and encouraging.
The vicariate youth leaders, like Mukti Prakash Hembrom, Stephen Soy and Eva Hassa Putry played a major role in conducting the programme. Frs. George Burgh, Deonis Ekka, Xavier Kindo and Wilson Lugun, Sr. Binit Bilung, etc. were the main motivating persons behind arranging the such a wonderful programme for the youth. This youth meet was a well-thought of programme.