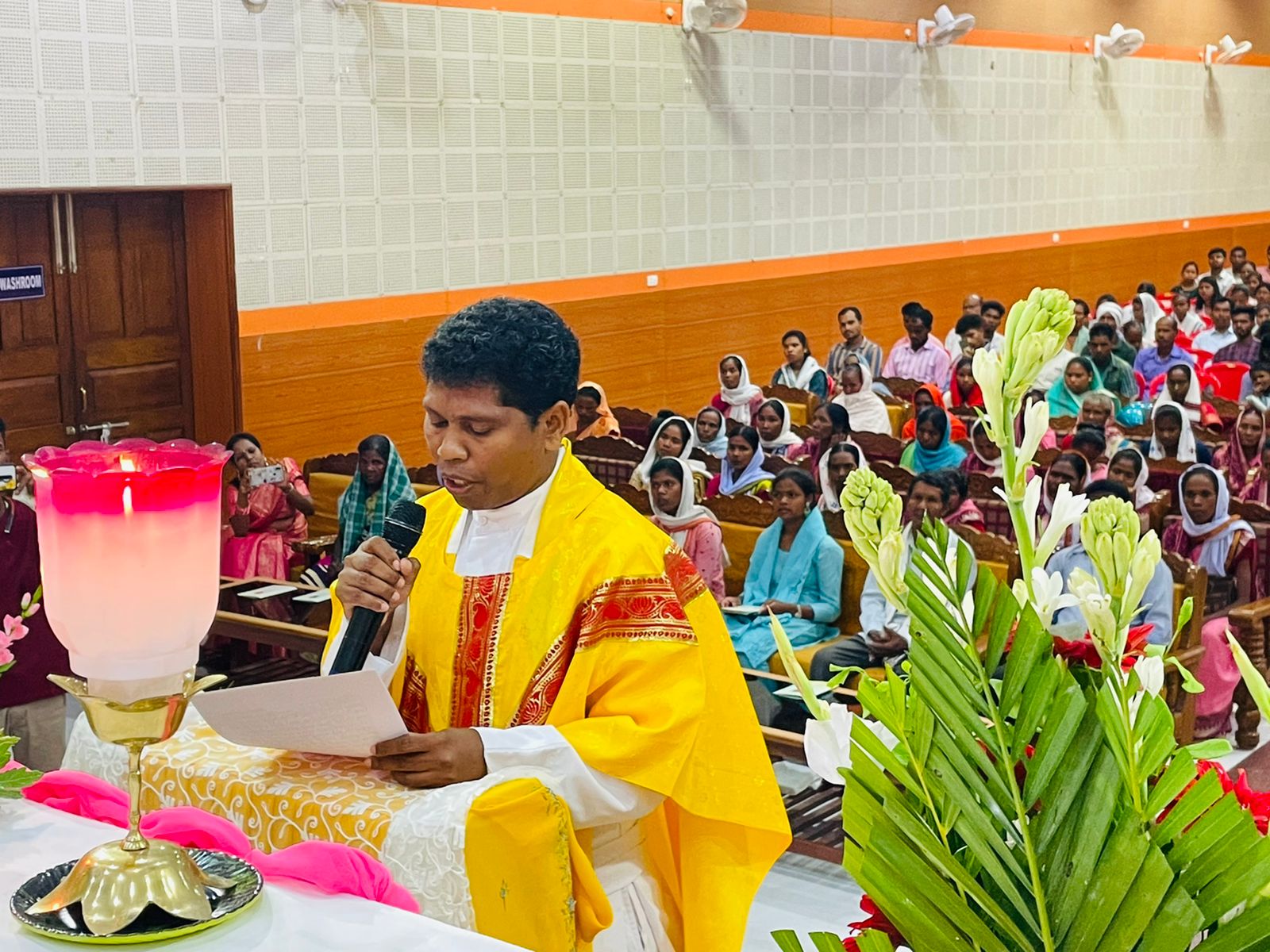 On the beautiful and grace-filled day of Pentecost Sunday, June 5, 2022, Fr Prabhat Kennedy Soreng, SJ professed his Final Vows in the Society of Jesus at the Solemn Holy Eucharist held this evening at 5:00 PM in the Auditorium of St Xavier's College, Ranchi. On this solemn occasion of the Final Profession a big number of family members, relatives, friends and well-wishers of Fr Kennedy – Religious and non-religious was present.
The Holy Eucharist was presided over Fr Ajit Kumar Xess, SJ, the Provincial of Ranchi Province and more than fifty Jesuits Concelebrated including his younger Priest Brother Fr Fulgence Soreng and his relative Fr Rajen. The beautiful entrance dance, melodious singing and offertory dance – all performed by the Religious students of St. Xavier's College – added the solemnity of the occasion and made it very meaningful.
In his homily on the occasion, Fr Ajit said, "The solemn Final Profession Day is the day of thanksgiving." While expressing his thankfulness to God for the beautiful life and vocation of Fr Kennedy to the Society of Jesus, he explained the congregation about the deeper meaning of Final Profession of a Jesuit in the Society of Jesus. He underlined the fact how on his first Vows – which is a perpetual vows- Fr Kennedy had expressed his desire to enter in the Society and today with the pronouncement of his final vows, the Society of Jesus accepts him as the full member of the society of Jesus.
Before the Holy Communion Fr Kennedy Pronounced the Final Vows in the Society of Jesus and after the Holy Communion a special Fourth Vow.
There followed a short felicitation programme in the Auditorium itself after the Holy Mass and the fellowship dinner in the College Quadrangle.
The entire society of Jesus and Ranchi Province in Particular congratulate Fr Prabhat Kennedy and wishes him God's abundant blessings on him for his worthy life of commitment in the Society of Jesus.